Moorings at Alvecote Marina
Alvecote Marina is situated right on the Staffordshire and North Warwickshire Border, along the Coventry Canal. Our Marina has a mix of friendly Moorers and boats. Many a firm friendship has began at Alvecote and the Samuel Barlow is the ideal meeting place for friends and family. There is normally a strong presence of historic craft based here that always make a pleasant sight.test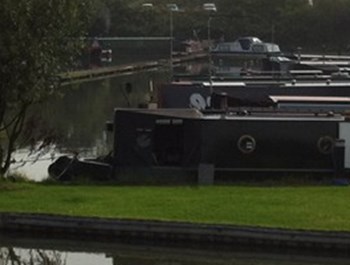 Moorings Currently Available!
We offer both Long Term Mooring Agreements right down to an overnight stay. Whether you are stopping aboard or simply leaving your boat with us we have a mooring suited for your needs.
We have Water, Refuse and Elsan Disposal, car parking and all boatyard services and repairs available to you. As well as having our own pub onsite.
Electricity is also available to moorings if required. The cost of this is a fixed £15 per month for bollard connection then the metered unit price billed to you at cost.
 -So you only pay for what you use!
Mooring Rates
Temp Mooring    -    £12.00 per night (electricity not available)
Monthly Rate      -    £5.00 per foot  
Quarterly rate      -   £13.00 per foot
6 monthly rate    -    £22.00 per foot
Yearly rate          -    £36.00 per foot
Historic boat mooring discount - for fully unconverted boats and members of HNBC that are not living aboard.
PHONE THE MARINA OFFICE FOR AVAILABILITY - 01827 893500  or  Email now at Moorings@AlvecoteMarina.co.uk