Wharf Services
We Offer the following Boatyard Services on the Narrowcraft Wharf. This is located for ease, on the towpath opposite the Marina entrance.
Assisted Toilet tank rinse and high vacuum Pump out inc. Elsan Blue  -  £20
Diesel (Current Domestic and Propulsion rates apply)
Elsan Disposal  
Elsan Blue        
Elsan Blue refill - £3.50 per litre (if you keep your old container we can refill it for you with high concentration Elsan Blue for less!!)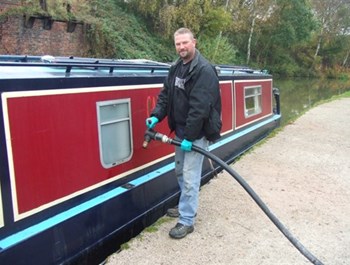 We stock the following products:
Calor Gas Refill
13kg Propane  
6kg Propane    
3.9kg Propane 
15kg Butane  
7kg Butane    
4kg Butane
Patio gas 13kg
Patio gas 5kg

Coal Products
We offer a carefully selected range of tried and tested products that are both smokless and suitable for burning in narrowboat stoves.


Being boaters ourselves we understand what you need from a fuel.
(All of these products are available by the bag or ton. Local delivery by narrowboat can also be arranged (see canal transport pages).  Alvecote Marina Moorers will benefit from a free coal delivery service on Fridays, during the winter months)