Boat Painting
Boat Painting has made up a large part of our business over the past few years. We can offer a variety of painting servies for you and your boat. We have recently undertaken Heritage paintwork for the Black Country Living Museum completing the restoration of Birchills. (pictured below) Also The Boat Museum Ellesmere port and The Saturn Project. But it is not only Heritage and traditional paintwork that we carry out take a look at some of the examples below of different jobs undertaken. 
We also carry out traditional back cabin graining/scumbling and offer roses & castle decoration along with all sign writing and artwork.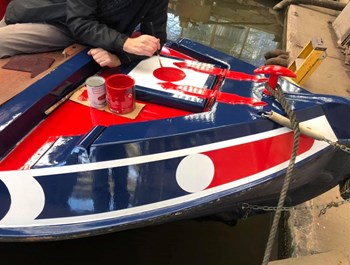 Let our experienced coach painters transform the look of your boat and restore that new look finish. Have pride in your boat once again.
 Our full paint jobs take about 12 weeks. They are carried out under our purpose built painting canopy at our docks. As it is often said 'the art of Painting is in the prep', and it is the prep that takes the majority of the time during the process. The amount of preperation depends on the job in hand and each job is priced accordingly.
Before any work begins we remove all windows and hull fixings then we strip all painted areas back to bare metal. All steel areas that have shown rusting will have the oxidation removed, the area will then be treated before priming.
3 coats of appropiate Primer will then be applied and flatted before the 3 colour matched undercoats can be applied. Now it is time for Gloss. As a standard we apply 3 coats of hand brushed Gloss topcoat to your boat. Extra coatings are available on request, some customers have had as many as 11 coats!
Costing is difficult as each job is unique and we will require inspection of the boat prior to any agreement on quotation.
.................'Did you know that our paint is formulated for us, and over 16000 colours are available.'
                                                              ...................'The advanced Coating system we use is also supplied and used by Luxury Car manufacturer ASTON MARTIN!....
CALL US FOR A QUOTE 01827 898585
Some examples...
The results are stunning.  Below are some pictures of recent paint jobs by Narrowcraft.
---