Water Transport is Faster than you might think!
There is still a place for the traditional transportation of goods and commodities by water in today's busy, fast paced life.
Water transportation is of course not as quick as road transport however, there are some benefits that come with this. A well managed fleet of craft can still keep up with demand if a regular supply chain is instigated. Non- perishable, dense, heavy products are ideally suited to water transportation.
Having nearly 40 ton of goods in transit at a time can help with storage and warehouse space.
Narrowboats traditionally worked either in pairs, with a motor (powered craft with carrying capacity of up to 19 ton) and butty (unpowered craft with carrying capacity up to 21 ton, towed behind the motor) or just as single motor units. South Midland Water Transport Ltd can offer both pairs of boat and single motors.
 We have a number of 'Show boats' which are restored and decorated in resplendent form and are real head turners for publicity, Film and PR work. These boats not only look but also sound the part, being fitted with original semi-diesel bolinder engines dating fom 1912!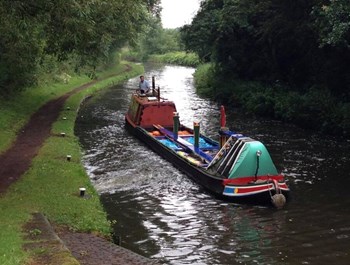 WATER TRANSPORT IS ENRIRONMENTALLY FRIENDL
Each pair of boats that travel along our watery highway running on a slow revving vintage engine take up to 3 large lorries from our already over congested roads. Trucks and lorries although much faster use up to 5 times as much fuel to complete the same trip and the fumes from these will do more damage to the environment.
If your company is looking to promote a green eco-friendly image, what better way than by using water transport to demonstrate this to the pubic.
WATER TRANSPORT HAS FANTASTIC ADVERTISING POTENTIAL
Now that our canals are becoming the green corridors of Britain, they attract thousands of boaters, anglers, walkers, runners, cyclists and holiday makers every year. Our boats are real head turners and we get photographed and filmed where ever we go. What better than use the 100ft of blank canvas to advertise the fact that you are still using this traditional transport method, (even if only for limited publicity level) and be in everybody's photo gallery on their smart phone! We have been likened to the "Flying Scotsman of the Waterways"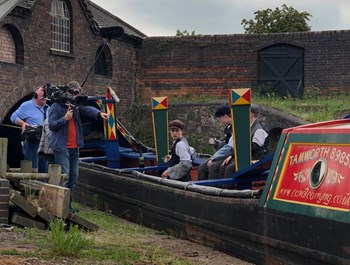 FILM AND ADVERTISING POTENTIAL
Our boats have featured in TV adverts, documentaries and period drama even catalogue shoots. If you are looking for the sights, sounds and smells of traditional carrying boats then look no further.
Also If you use canal transport then why not tell the world and use us for TV advertising. Get the Green Vote, stand out from your competitors!
Our craft have featured in the following:
Painted Boats (ealing studios film)
Inspector Morse
True Tilda
Call the Midwife
Songs of the waterways (music video)
Various news stories both local and national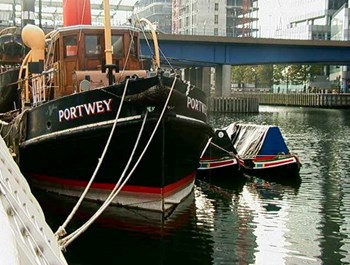 ARE YOUR PREMISES WATERSIDE?
Have you considered the potential to use water transport? Or even allow your neighbouring business to? Government grants are available for wharfage.
DOES YOUR COMPANY HAVE A LONG STANDING HERITAGE WITH CANAL TRANSPORT?
Most of the major or large corporations in this country relied on canal transport right up to the middle 60's. If your company is celebrating an anniversary why not have some trial or publicity loads once a year to raise awareness. Contact us for details or to discuss the history and potential to create a media story. Don't wait until you are reading all about your competitor on the front page of the Independent or Gaurdian
Some of the Companies we have carried for:
Marstons
Marks and Spencer
Shanks McEwan
Kappa Recycling
Jewsons
Travis Perkins
British Waterways
BBC