Keeping trade on the canal......
PHONE RICK ON 07962 013199 TO PLACE YOUR ORDER 
Rick Cooper aboard Historic Narrowboat AURIGA Built by Harland and Wolff in 1935 for the Grand Union Canal Carrying Company will be delivering your fuel.
Auriga and The Gravenor boating company works closely with SMWT. Sometimes the services of other craft may be drafted in to ensure your delivery reaches YOU when YOU need it!     Your purchase helps to keep canal carrying alive...
The Gravenor Boating Company is a fully Licenced Trader. Beware of non-licenced towpath traders.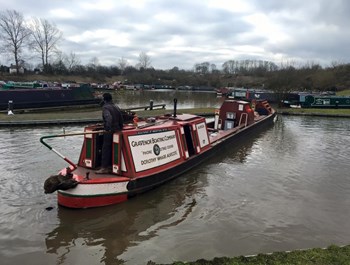 For the latest location information, Follow Rick, Auriga and Cassie the Dog on Facebook 
.